POULTRY DAYS 2021 ~ June 11, 12, 13
The 2021 Versailles Poultry Days will be held June 11-13th.
Welcome to Poultry Days!
The Versailles Poultry Days' Board of Directors and the Village of Versailles welcome you to the 70th annual Poultry Days festival June 11-13th. Always the 2nd full weekend in June!
Poultry Days is an annual community festival which began in 1952 to celebrate the area's history as a leading poultry-producer. Arrive early to enjoy one of our World-Famous chicken dinners. Since 1952 this village of less than 3,000 people has sold 1,066,185 of these delicious dinners.
The 2021 festival theme is "Village of Champions, Honoring Those Who Make us Great!" The festival is always packed with many activities for people of all ages to enjoy. There are two parades, the Grand Parade at 11 a.m. on Saturday and the Antique Car Parade at 2:30 p.m. on Sunday. The Village will host the 40th annual Ultimate Frisbee Tournament, which is one of the top bucket list tournaments in the world. Some of the other activities will include: Miss Chick and Little Miss Poultry Days Contests, FREE Kiddie Tractor Pull, rides and games for all ages, Vendor Area, Cake and Egg Contests, Flower Show, and Art & Photo Show along with many other family friendly events.
Mark your calendar, schedule your vacation and check this website periodically for details and updated information. Email us poultrydayschairman@gmail.com at with questions.
We look forward to seeing everyone in June!
Brent Pepple
2021 Festival Chairman
Coming soon!!
2021 Grand Parade Marshals.
2019 Grand Parade Marshals JIM & JULIE POEPPELMAN
Jim and Julie (Monnin) Poeppelman are very pleased and honored to be selected as Parade Marshalls for the 2019 Poultry Days Grand Parade. The parade will begin at 11:00am on Saturday June 15 as part of the three-day festival to be held June 14-16, 2019.
Jim was raised in Versailles and aside from his years in college, has been a lifelong Versailles resident. Julie was born in Piqua and spent the majority of her childhood growing up in Russia, OH, where she attended and graduated High School. The two were married on August 22, 1981 in Russia, OH and established residence in Versailles where they have been happily married ever since.
*2021 GRAND MARSHAL INFO COMING SOON
FREQUENTLY ASKED QUESTIONS
WHERE IS THE FESTIVAL?
---
The festival is held at 459 S. Center St Versailles, OH 45380. Ultimate Frisbee events are held south of the festival grounds on Highway 185 and at Heritage Park, 10200 Klipstine Road, Versailles, Ohio 45380.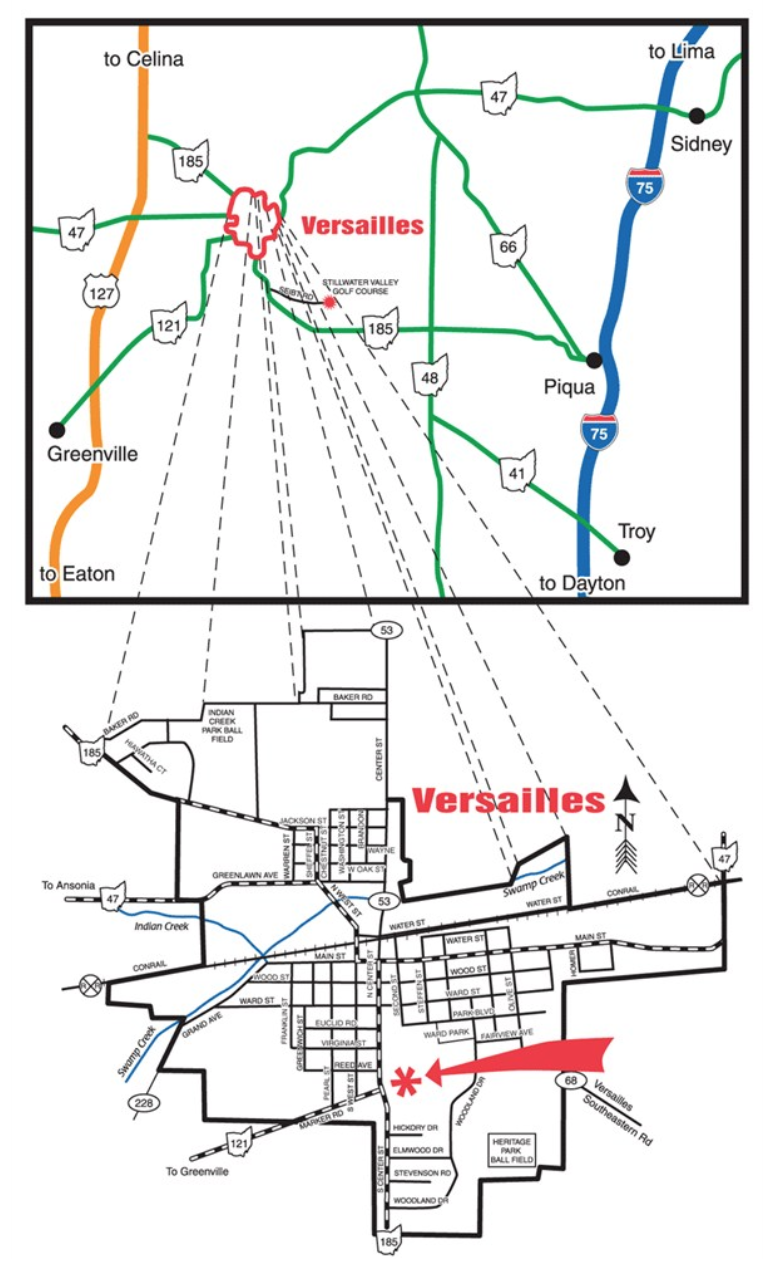 ---
WHERE CAN WE PARK?
---
There is no dedicated parking at the festival. Festival goers can park on nearby side streets, the library, pool or high school as long as "No Parking" signs aren't present. There is limited handicapped parking on South Center Street and Reed Avenue.
---
WHY DID THE CHICKEN CROSS THE ROAD?
---
We don't question the chicken's actions. The chicken can do as it likes.
---
WHEN IS THE WORLD FAMOUS BARBECUE CHICKEN SERVED?
---
Chicken is served: Friday 3:30-8pm Saturday 11:30-7:30pm Sunday 11am-7pm. NOTE: We can sell out earlier...


---
WHAT IS IN A CHICKEN DINNER?
---
1/2 of A delicious World Famous BBQ chicken

1 bag of Mikesell's potato chips
applesauce
roll & butter
orange drink
---
HOW MUCH DO CHICKEN DINNERS COST?
---
$9.00 per dinner
---
DO YOU SERVE CHICKEN DINNERS IF IT RAINS?
---
Chicken is served rain or shine through our walk-thru line (with dining tent) and our four-lane drive-thru. Our chicken lines can serve over 2,000 dinners per hour.
---
HOW MANY CHICKEN DINNERS WILL YOU SERVE THIS YEAR?
---
We expect to serve 29,100 dinners at the 2020 festival. STAY TUNE FOR 2021 DINNER SERVING NUMBER.
---
FESTIVAL HOURS?
---
Generally, the festival runs:
Friday 3:00 – 11:30pm
Saturday 11am-11:30pm
Sunday 11am-10:30pm?
See our full schedule for event times.
---
HOW CAN I CONTACT THE POULTRY DAYS FESTIVAL?
---
Mail us at PO Box 108 Versailles, OH 45380-0108 Email us at poultrydayschairman@gmail.com. During the festival contact a board member on the grounds. Many of our events are operated by separate community groups and volunteers. Review specific events on our Event Page for additional contact details
---
ADMISSION COST?
---
Admission is FREE. The board reserve the right to ask anyone to leave the festival who is not following rules or otherwise disrupting the family friendly atmosphere and the enjoyment of other festival goers.
---
FESTIVAL RULES?
---
No weapons

No smoking in any tents
Service Animals ONLY- No animals on the grounds
Shirts must be worn at all times
Purchase and consumption of alcohol is limited to adults age 21 and older
---
PUBLICITY PHOTOS?
---
Visitors, participants and vendors may be photographed or filmed and these images may be used for promotional purposes.
---
BULK COOLER PICK UP?
---
STAY TUNE FOR THE 2021 FESTIVAL!! The Versailles Poultry Days chairmen and board members are working through the logistics to simplify bulk chicken order pickup. Follow us on Facebook for additional updates or check back on our website.
---
---